Platform Functionalities
Webspace for your content
Catalog feature for additional structure
Easy editor
Web annotation
Webspace for your content
You can have unlimited amount of webpages with subpages (structured like a book).
The Main Page of a Zuugs
A page in a Zuugs is a 'chapter'. The picture shows one content page with the open table of contents on the side. There you can see front matter, back matter and the main body being structured in two parts.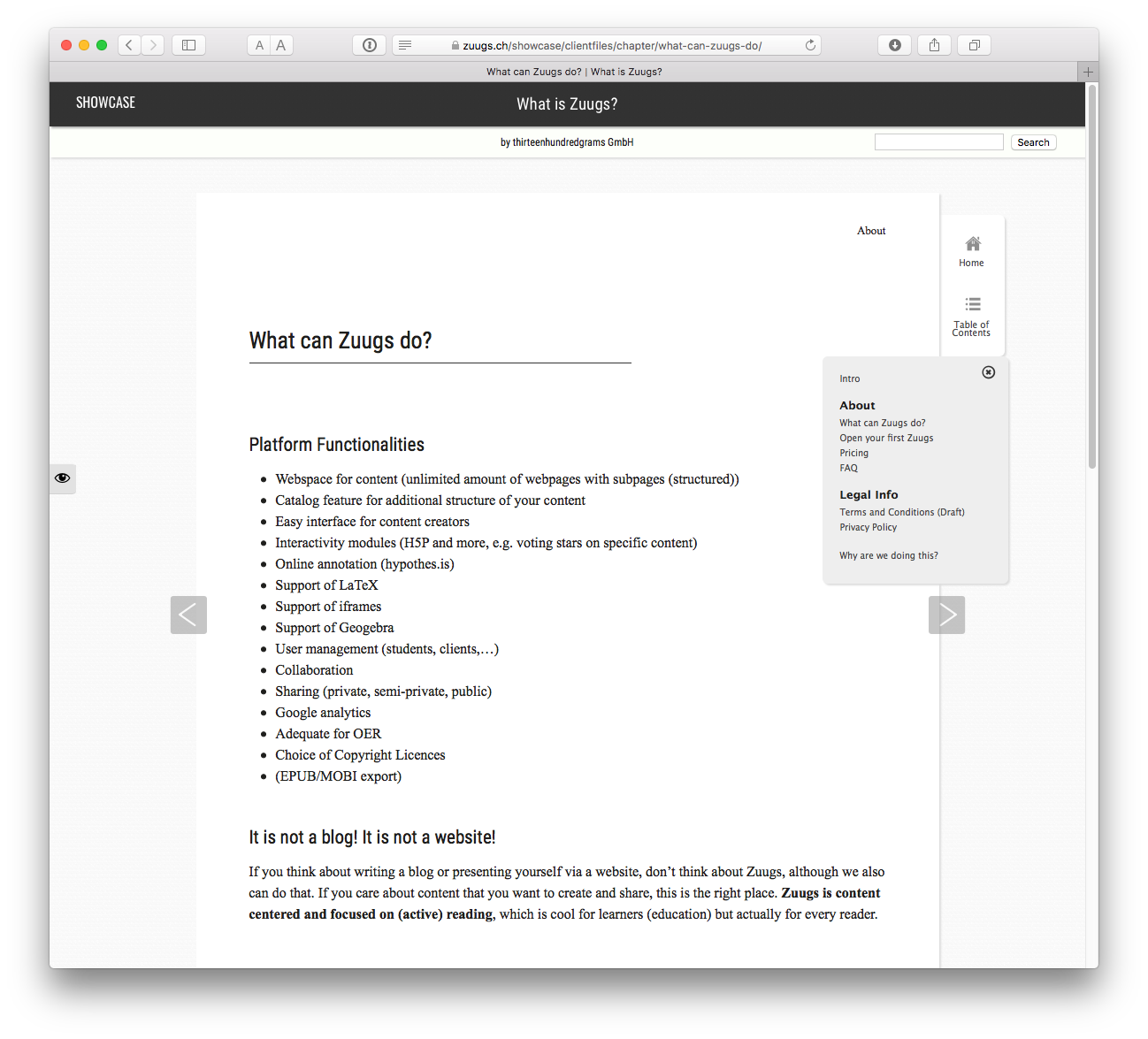 Example
You are in a chapter right now! Use the buttons at the top to go back to the main page (Home). Simply navigate using the left and right arrows or use the Table of Contents.
Catalog
As you can have many Zuugs, you can put your Zuugs into a catalog for more structure and order. The catalog can also be structured with tags.
The Admin Panel for your Catalog
Simple Editor
To enter your content, you use a standard WYSIWYG editor. Easy-peasy.
Example
Open your own Zuugs right away on Trial Zuugs! See how to.
Interactivity with H5P
You can use all the interactive modules by H5P
…and some more features, for example a voting star 

 . This star is similar to a 'like'-button and works when your reader is logged in.
Web Annotation
You can use web annotation with hypothes.is for collaboration, discussions, review and many more scenarios.
Examples
Here is some text, and you can annotate it. Click on highlighted text in this box, or open the drawer by clicking on "<" in the upper right corner of this window. Create a user with hypothes.is, select some text and annotate, or answer to one of my annotations right here!
and…
Support of LaTeX
Support of iframes
Support of Geogebra
User management (students, clients,…)
Collaboration
Sharing (private, semi-private, public)
Google analytics
Adequate for OER
Choice of Copyright Licences
PDF/EPUB/MOBI export
…
It is not a blog. It is not just a website!
If you think about writing a blog or presenting yourself via a website, don't think about Zuugs, although we also can do that. If you care about content that you want to create and share, this is the right place. Zuugs is content centered and focused on (active) reading, which is cool for learners (education) but actually for every reader.